LEXINGTON, Ky. — A group of Webster County 4-H'ers recently took top honors at the 2021 National LifeSmarts Championship, becoming the first Kentucky 4-H team to do so.
Members of the Webster County team include Lily Martin, Emma Martin, William Leslie, Allie Newman and Ella Oakley. They defeated a team from North Carolina to earn the championship. They are coached by Wade Raymer, the county's 4-H youth development agent.
"It's a huge honor for us," Raymer said. "It's the first time that a Webster County 4-H team has ever won a national contest."
A competition of the National Consumers League, LifeSmarts tests high school students' knowledge of consumer awareness in areas such as personal finance, technology, environment, health and safety, and consumer rights and responsibilities. Winners receive prizes and scholarship money. To make it to the championship round, students had to create an infographic, participate in a team activity with another team and answer quick-recall style challenge questions.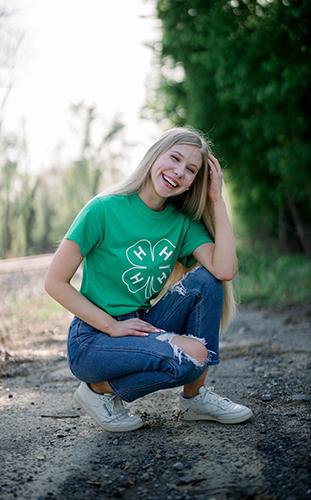 he group from Webster County started competing in 2018. Since then, they have won the state championships in 2019, 2020 and 2021. In 2019, they placed eighth in the nation. They did not compete in the 2020 national competition due to the COVID-19 pandemic.
"It took lots of practice to win," Raymer said. "We started practicing virtually every Friday beginning in October. After the first year when we went to the national championship in Orlando, they set their goal to win it. They put in the time and effort to make it happen."
As national champions, each 4-H'er on the Webster County team received $1,500 in scholarship money and additional prizes.
In addition to the national championship, Webster County 4-H'er and team captain Lily Martin, was named the LifeSmarts Student of the Year.
"LifeSmarts has taught me the practical skills that every adult truly needs to know," she said. "From how to file taxes to how to test a smoke alarm, I have learned skills that I will carry throughout my life. As I transition into adulthood, I feel infinitely more prepared because of my participation in this program."
"Lily was truly the leader of the group and helped keep everyone motivated," Raymer said.
Throughout 2020 and 2021 more than 100,000 teens competed for a chance to represent their state at the National LifeSmarts Championship. Competitors at the championship represented 60 teams from 30 states and the District of Columbia.
— Katie Pratt, University of Kentucky College of Agriculture, Food and Environment
For more news from Kentucky, click here.