ENFIELD, Conn. — Canada has been extremely protective of its dairy farmers for a long time. Governed by a supply management quota system, Canadian dairy producers have had higher and more stable milk prices than U.S. producers. Canada has about 11,700 dairy farms, and just under 960,000 cows.¹ Compare that to the U.S., which has about 64,000 dairy farms and 9.3 million cows.²
The Canadian government put a supply management system in place in the early 1970s in an effort to reduce production surpluses. A farm's quota can be adjusted up or down on an as-required basis by the government, according to consumer demand. This system limits farm expansion and the limited supply affects consumers directly. Canadian consumers pay the equivalent of about $6.73 (USD) for a gallon of conventional whole milk, compared to about $3.20 in the U.S.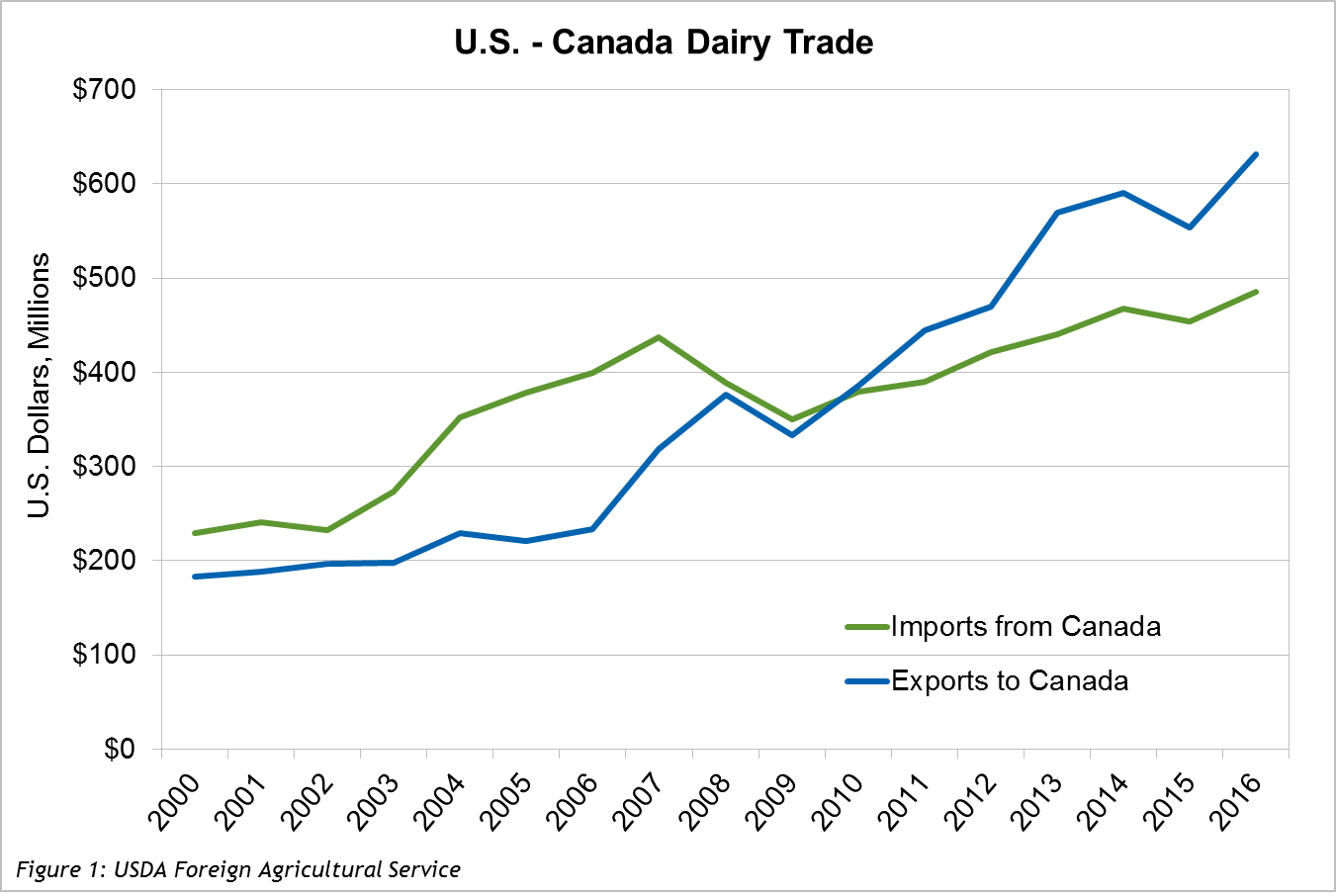 Of course, this system only works if Canada's dairy industry is insulated from world markets. Twenty-three years ago, when the North American Free Trade Agreement (NAFTA) was negotiated between the U.S., Canada and Mexico, Canada managed to protect its dairy industry and retain its trade barriers. Canadian imports of dairy products are controlled using tariff rate quotas, which allow a predetermined quantity of product to be imported at preferential tariff rates, with punitive rates for over-quota dairy product imports.
Canada has maintained these TRQs to protect its domestic producers. However, ultra-filtered milk, a dairy protein product used in cheese-making, did not exist as a product category at the time NAFTA was negotiated. Therefore, it was never addressed or considered a dairy product eligible for protected status. Instead, it has been exported to Canada, without restriction, as a protein product. As early as 2008, Canada recognized the importation of ultra-filtered milk as an issue, and created a TRQ for the category. However, due to the NAFTA agreement, the quota could not be applied to the U.S. product.
Exports of milk proteins to Canada have grown from $28 million in 2010, to more than $100 million per year for 2014 through 2016. In response to this growth, in April 2016, the province of Ontario implemented a new price class, called "Class 7," which includes ultra-filtered milk and is based on international price levels. This effectively dropped the price of the product for Canadian processors below the cost of U.S. ultra-filtered milk. Canada expanded this to a national program, culminating in the National Ingredients Strategy in July 2016. While Canadian processors remain free to purchase U.S. ultra-filtered milk without a punitive tariff, there is no longer a price incentive to do so, which has essentially closed the market to U.S. producers.³
Though the Canadian government argues that not addressing this product class in the NAFTA treaty was an oversight, their trade-blocking actions could still represent a violation of their obligations under NAFTA. As a result, several U.S. dairy producers and cooperatives have lost what had developed into a significant market.
Finding another buyer for this displaced milk has been a challenge. Milk production in the U.S. continues to expand beyond processing capacity in some regions, particularly the Northeast and upper Midwest. American milk processors, including some in the Northeast, have made significant investments in plants and equipment to supply this market which has now suddenly dried up.
Canada's milk pricing formula and the subsequent loss of export markets has attracted national attention in the U.S., with federal and state lawmakers urging the Administration to find a way to get Canada to roll back its pricing scheme. Nonetheless, this will be a difficult fight for American trade negotiators. The U.S. still enjoys a substantial dairy products trade surplus with Canada, and there is no punitive tariff, per se, to fight against. Instead, Canada has manipulated the situation to position its domestic suppliers to undercut U.S. imports. For its part, Canada has argued this is strictly a domestic policy issue, and that it is not responsible for the oversupply situation in the United States.
Meanwhile, U.S. dairy producers and cooperatives have been scrambling to come up with new markets for not only displaced exports, but production levels that continue to increase. While trade is absolutely critical to American agriculture, this situation is emblematic of the frustration that U.S. companies sometimes face — markets are developed by innovative businesses and then undercut by protective actions.
---
1 Canadian Dairy Information Centre
2 USDA / NASS
3 John Newton, "Canada Closes Door on U.S. Dairy Farmers", American Farm Bureau Federation, April 11, 2017