RALEIGH — I received the above photo last week of a strawberry variety trial at Cal Poly from Anne Geyer, Agriberry, Hanover, Va.  Anne is on the right, and she wrote:  "Cal Poly Strawberry Center touring with the Berry Health Symposium group."    Growers, agents, agronomists and industry members are all invited to a similar type of variety showcase in Eastern North Carolina on April 20.
Dear Growers, Agents, Agronomists & Friends,
In just a few weeks we will be hosting a Strawberry Field Tour & Twilight Meeting on THURSDAY, April 20, 2017 Twilight Tour April 20 2017.rev 1
Last year this event was hosted by Lassen Canyon Nursery on April 26th, but this year we decided to "move it up" a week due to the earliness of this strawberry season.  As it turns out, we could have probably scheduled this tour even earlier, as we had our first harvest of research plots on March 27th!  So, we will be 3 weeks into the season by the time of this meeting!  The good news is that that will give us an excellent chance to see how well different varieties and selections perform in the mid-season period (a big concern so far this season has to do with berries being too early and not having enough fruit in late April and early May).
There will be an opportunity to taste test several of the most promising new LCN varieties and selections, including Ruby June (Fig. 2).  And, we will be sharing  yield and berry size data with attendees on the early season performance of  30 named strawberry varieties and 100 advanced selections varieties.
This year we are going first to Faison (1:30 pm) to see a very large variety and selection trial (30 named varieties and 100 Advanced Selections), and then we will wind up in Elm City for the Twilight Tour and BBQ (4:30-7:30 pm).  There will be excellent opportunities for strawberry taste testing at both locations, and to visit with Lassen Canyon strawberry breeder, Jim Bagdasarian (Fig. 3).
Please pre-register with Cortney Batten before Tuesday, April 18th
Email: bar.cortney.driver@gmail.com; cell (and text): 919-390-8190
Agenda:
1:30 pm        Registration at Cottle Strawberry Nursery for Field Tour of New Strawberry Varieties and Advanced Selections from Lassen Canyon Breeding (Cottle Strawberry Nursery, Inc., 2488 NC-403 Faison, NC  28341)
2:00 pm         Welcome & Introduction of Guests – Ron Cottle, President, Cottle Strawberry Nursery
2:10 pm           Remarks About the Multiple Freeze Events of March 13-18, 2017,  Barclay Poling, Professor Emeritus NC State & Consultant to Lassen Canyon Nursery

2:20 pm          Tour Strawberry Variety Trial & over One Hundred Advanced Selections from the Lassen Canyon (LCN) Strawberry Breeding Program –  Barclay Poling and Whit Jones, Cottle Strawberry Nursery, will lead the discussion and tour.
3:30 pm           Depart for Twilight Tour & BBQ at Research Farm of Jim Driver and Cortney Batten, Elm City (near Wilson) … 50 minute drive
(Farm address:  5451 Lindsey Rd, Elm City, NC 27822)
4:30 pm           Arrive at Research Farm, Biological Applied Research, Inc., Elm City & Register for Raffle for Omega Engineering Digital Thermometer
4:45 pm          Twilight Tour of Research Study Comparing Plugs and Cut-off plants of Camarosa, Camino Real, Chandler, Lucia, Ruby June, Scarlet, Sweet Ann and Sweet Charlie
5:45 pm          BBQ DINNER  (Please pre-register with Cortney by April 18
6:45 pm         Questions and Answer Period;  Announce Winner of  Omega Engineering Digital Thermometer & Informal visiting with Jim Bagdasarian, Lassen Canyon Breeding, Redding, CA (Fig. 3).
7:30pm            Adjourn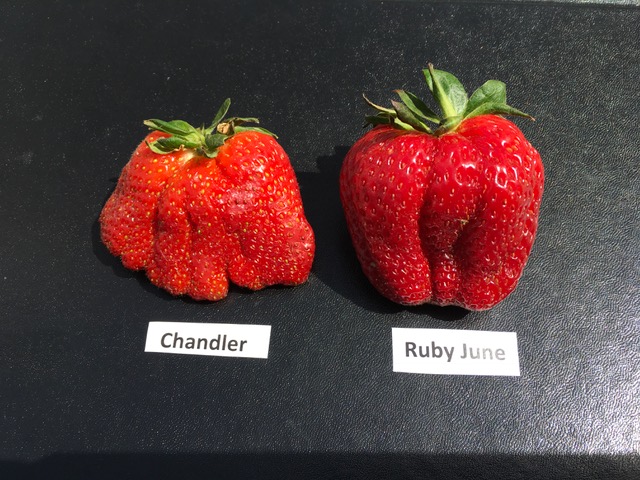 Fig. 2.  This is an interesting photo that I took this morning (April 5) of two day old Chandler and Ruby June side-by-side. These  berries came from our research plots in Faison that were picked this past Monday morning (April 3).  We left all the buckets of fruit from our research plots on a warehouse floor at room temperature Monday night.  They were refrigerated last night before the photo was taken at 11 am today.  To say the least, the Chandler and Ruby June berries shown in this photo have not had the best handling, but by leaving the buckets "out" overnight, we can get an idea  about whether  the variety/selection is  prone to darkening after picking?  Camino Real is an example of a variety that often gets very dark after picking.  I felt that both Ruby June and Chandler kept a nice bright color.  I also thought the flavor of both Chandler and Ruby June was pretty good after having gotten nearly 2 inches of rain this past Friday – we could see some rain checking in both varieties.  I think one of the things that has made Ruby June so popular with test cooperators is that this variety not only has a nice flavor, but the berry has "some juice" like Chandler.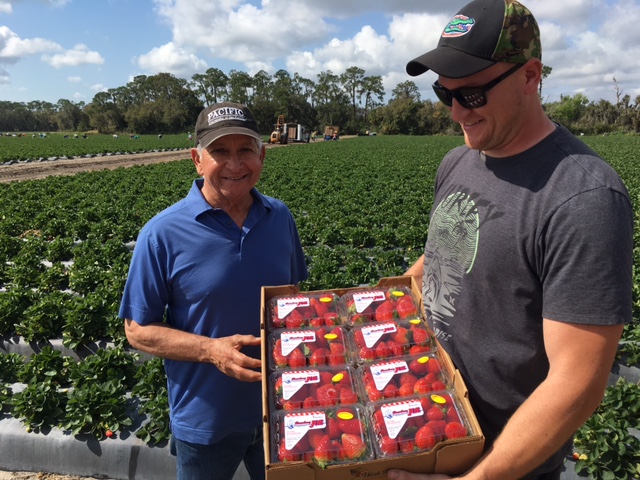 Fig. 3.  Jim Bagdasarian (left), is the lead strawberry breeder for Lassen Canyon, and he will be participating in the April 20th Strawberry Tour and Twilight Meeting in North Carolina.  Jacob Hare (right) is a Florida strawberry grower, who is showing off a very classy tray of Winter Star (a Univ. of FL variety), on Feb. 8th.
— Dr. Barclay Poling, Former Professor and Extension Specialist, Strawberries and Muscadines, Horticultural Science – NC State University
For more news from North Carolina, click here.
Comments