DOWNERS GROVE, Ill. — Syngenta Seeds announced that it is offering farmers its NK® Corn Replant Calculator* for free, which will help agronomists and farmers make data-based decisions on whether to consider replanting their corn. The 2022 growing season got off to a cold and rainy start across much of the Corn Belt, and Mother Nature is forcing many farmers to make a difficult decision: deal with varied corn emergence, which can set the stage for less-than-optimal final stands and reduced yield potential, or replant corn at an additional cost.
Recommendations from the NK® Corn Replant Calculator are generated from publicly available data, and calculations are based on a farmer's location, original planting date, replant date, current plant density and desired plant density. While the Calculator provides replanting recommendations based on university data, there's no definitive resource for replant decisions.
"Farmers make countless decisions throughout the growing season, but the decision on whether or not to replant a corn crop is arguably one of the most significant in terms of potential ROI," says Todd McRoberts, NK Seeds Agronomy Manager. "It's not always a black-and-white decision, but there are simple steps farmers can take to build confidence in their decision to invest in a replant."
Steps to Consider a Potential Replant
Determine Your Existing Stand. To estimate stand, count the number of healthy plants in the length of a row that equals 1/1,000 of an acre (Table 1) and multiply the number of plants by 1,000."Take several counts throughout various areas of the field to get an accurate final stand," advises McRoberts. "If stand loss is occurring in distinct zones, limit your stand count measurements to those areas of replant consideration."
Compare Estimated Replant Yield Potential versus Potential of Existing Stand. Reference Table 2 to figure your percent yield potential of corn by emerged stand and planting date."This calculation will provide a lot of clarity into the yield potential both options offer," adds McRoberts.
Decide Whether Relative Maturity Should Be Reduced for Replant. Once a farmer decides to replant corn, the next big decision is whether to reduce hybrid RM."Choose a hybrid that can reach maturity prior to the first frost," says McRoberts. "Hybrids compensate for the abbreviated growing season and will reach black layer within fewer growing degree units than if planted earlier."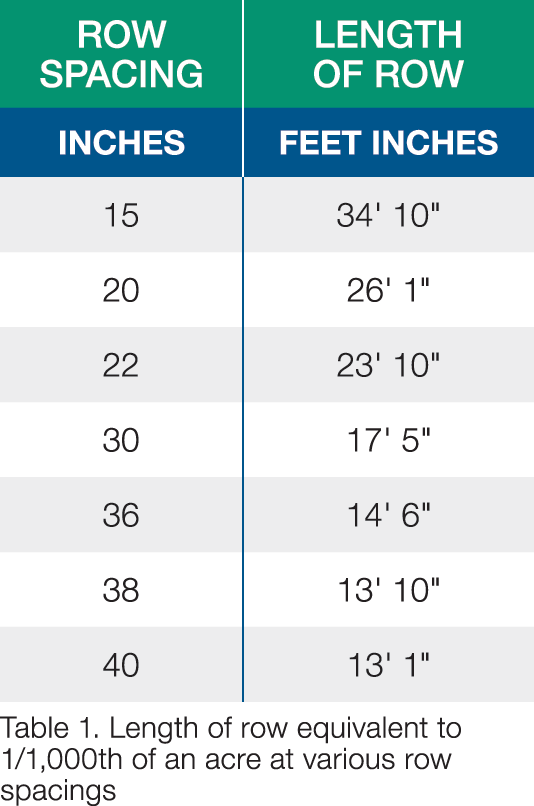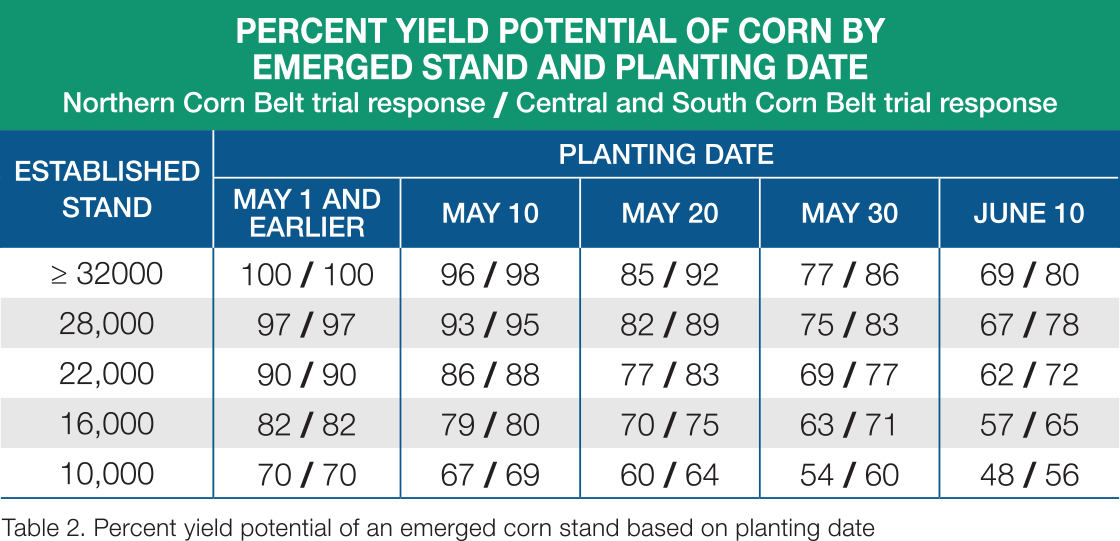 Now is the time for farmers to devise a replant plan, if necessary, and to decide whether a different RM is necessary. McRoberts cautions that the increased yield potential of a fuller-season hybrid often outweighs the cost of drying grain. He recommends that farmers plant full-season hybrids adapted for a given area until the last week in May and then change to a mid-season hybrid (4-7 RM) — and never switch to 8-11 RM hybrids earlier than adapted full-season hybrids unless drying grain is not an option.
Visit NKSeeds.com/ReplantCalculator to access the NK Corn Replant Calculator. To learn more about NK corn hybrids or soybean varieties for your area, contact your NK Seeds retailer.
* The replant calculator is provided by Syngenta as a reference tool for agronomists and farmers. It is not intended to be nor should it be used as a definitive source of agronomic guidance on any matter. The replant calculator provides data gathered from the university data and publications listed below. Syngenta assumes no responsibility for the results of this data, nor does it represent that the data is current. The universities periodically update their databases; therefore, the replant calculator may not reflect the most current data.
— Syngenta Seeds